UNIDO-KCG Conference 2018 Brought Experts together to Discuss Inclusive and Sustainable Global Value Chains
20th June 2018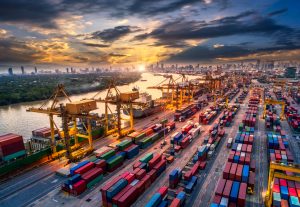 The UNIDO-KCG Conference 2018 with its overarching theme "Global Value Chains (GVCs) as Drivers of Structural Change" was successfully held at the Vienna International Centre on June 18. Prof. Holger Görg, Ph.D (KCG Managing Director) and Dr. Wan-Hsin Liu (KCG Coordinator) joined the Conference in Vienna.
The one-day event, financially supported by the Government of the People's Republic of China, was organized in partnership between UNIDO and KCG at the Kiel Institute for the World Economy, in cooperation with the University of International Business and Economics (UIBE) of China. It brought together well-known academics, policy experts, and representatives from governments and the private sector to discuss about how global value chains can drive structural change and foster inclusive and sustainable development.
The Conference started with the opening remarks and the keynote speech of the Director-General of UNIDO LI Yong. He emphasized the key importance of a better understanding of the "characteristics and dynamics of GVCs across different regions and industries" for developing adequate policies to tap the full potential of GVCs for supporting economic development and structural change. The main part of the Conference consisted of three discussion sessions, focusing on the prospects and opportunities of GVCs to foster inclusive and sustainable industrial development, GVCs as drivers of structural changes and related policy challenges and options.
At the Conference Görg moderated the third session "Supporting Inclusive and Sustainable Industrial Development through GVC Integration and Upgrading: Policy Challenges and Options". He prepared a policy paper as base for the session discussion, in which he summarises what we know (from the related academic research) and what we would still like to know about how investment can work for productivity-enhancing, inclusive and sustainable development. The panellists of the session, Prof. Tony Addisson, Ph.D. (UNU-Wider), Ana Novik (OECD), Martin Roy, Ph.D. (WTO), Albert Ting (CX Technology) and Daniela Zehentner-Capell (BMZ), first presented their own views on the challenges faced by different countries and societies when promoting inclusive and sustainable industrial development through GVC integration and upgrading. The discussions led to some key insights: It is of high importance to also pay sufficient attention to the social and environmental aspects of the GVCs. Different stakeholders, including academics, the private sector, policymakers, and representatives from international organisations should be brought together to exchange knowledge and experiences for developing solution proposals. Firms, irrespective of their sizes, need to have opportunities to get involved in these processes for searching for, for example, suitable norms and standards for social inclusion and environmental sustainability. Last but not least, it is crucial to appropriately consider the context differences in this regard, since there is no one-size-fits-all solution.
The above mentioned background paper, "Görg, H. (2018), Making Investment Work for Productivity-enhancing, Inclusive and Sustainable Development, KCG Policy Paper No.3", can be found here.
Two new related reports of UNIDO were also introduced at the Conference and they can be accessed online.
UNIDO (2017), Structural Change for Inclusive and Sustainable Industrial Development. UNIDO: Vienna, Austria.
UIBE and UNIDO (2018), The Global Value Chains and Industrial Development: Lessons from China, South-East and South Asia. UNIDO: Vienna, Austria.