KCG Policy Paper No.3.: Making Investment Work for Productivity-enhancing, Inclusive and Sustainable Development
19th June 2018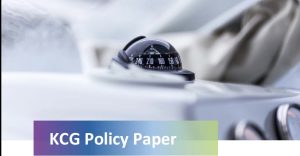 Author: Holger Görg
Goal 8 of the UN Sustainable Development Goals (SDGs) calls for promoting
"sustained, inclusive and sustainable economic growth, full and productive employment and decent work for all". 
One driver that may help to achieve this goal is foreign direct investment (FDI).  It has the potential to foster productivity growth and generate quality employment, and also – though many globalization critics may disagree – to help moving towards more socially and environmentally sustainable business practices (e.g., Görg, Hanley, Hoffmann, Seric, 2015).
This short note reviews briefly what we do know from recent work using large scale firm level datasets about the potential benefits or costs of foreign direct investment as regards these aspects.  It then sets out what else we would want to know, and how to go about collecting this knowledge.  Based on this, some policy conclusions are offered.