KCG Researchers Participated in the Global Solutions Summit 2019
18th April 2019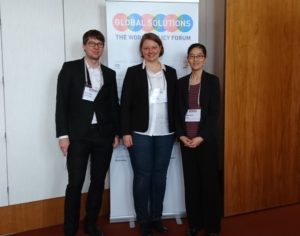 The Global Solutions Summit 2019 with its overarching theme "Recoupling Social and Economic Progress towards a Global Paradigm Change" was held by the Global Solutions Initiative on March 18-19, 2019 at ESMT in Berlin. The multi-stakeholder event gathered 1600 experts from more than 100 countries together to explore and discuss policy recommendations on issues such as trade and investment, multilateralism, social cohesion, climate change and sustainable development etc., following the G20 foci this year. These topics are strongly related to the research agenda of the Kiel Centre for Globalization (KCG) where we investigate different aspects of globalization as well as the economic and societal consequences of global value chains.
KCG Researchers, Dr. Cecília Hornok, Thilo Kroeger, Dr. Wan-Hsin Liu, Finn-Ole Semrau, and Frauke Steglich, participated in the Summit to exchange knowledge with other globalization researchers and to gain up-to-date first-hand insights into the globalization practices from practitioners from NGOs and from representatives from the international organizations, businesses and politics. The key relevance of quality FDI for local economic and societal development of the FDI host countries was, for example, underlined repeatedly by practitioners and other decision makers in the Summit, as also suggested by the related KCG research.
Moreover, Hornok was involved in on-site discussions in the T20 Task Force on Trade and Liu organized a panel session titled "Overcoming Population Ageing Challenges with Digital Technologies" with the Chung-Hua Institution for Economic Research. Dr. Adnan Seric (KCG External Research Fellow) from the United Nations Industrial Development Organization also joined the Summit and acted as a speaker in the session "Integrating Southeast Asian SMEs in Global Value Chains".
More information about the Global Solutions Summit 2019 is available here.