KCG Policy Paper on China's Economic Transformation and Poverty Reduction
14th February 2022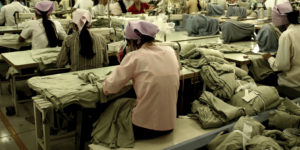 Looking back in its forty-year reform period, China's economy grew at an annual rate of 9.5 percent until 2018. With its strong economic growth, China turned to be an important force supporting both the development of the international trade and the global economic growth. Internally, China's strong economic development helped almost 800 million people to escape extreme poverty – An achievement that, however, was accompanied with challenges, including the high inequality in China. China's current policy emphasis of the key importance of "common prosperity" for its long-term development shows how critical the issue of inequality turns to be for the country.
On February 3, 2022 Prof. Branko Milanović, Ph.D. (City University of New York) and Dr. Martin Raiser (World Bank) jointed the sixth Global China Conversation "40 Years of Poverty Reduction in China: What are the Challenges?" to share their knowledge of how China succeeded in poverty reduction and discuss its challenges ahead, particularly related to the high inequality. The Conversation was moderated by Prof. Dr. Andreas Fuchs (University of Göttingen and Kiel Institute for the World Economy).
Jointly with Maria Ana Lugo, Ph.D. (World Bank) and Ruslan Yemtsov, Ph.D. (World Bank), Raiser prepared a background paper "China's Economic Transformation and Poverty Reduction over the Years: An Overview" for the event. The paper is published as a KCG Policy Paper today.
Abstract: The present document examines the role of social and economic transformation in the process of poverty reduction in China. China's economic growth and poverty reduction over the past 40 years are historically unprecedented both in speed and scale. Between 1978 and 2018 China's economy grew at an annual rate of 9.5 percent, twice as fast as the other developing regions of the World. The proportion of those living in poverty in rural areas fell from 97.5 percent to less than one percent over this period.  There are 765 million fewer poor people in China in 2019 than they were in 1980. This means that China alone accounts for three quarters of the total reduction in global extreme poverty in that period. Although China's growth rate will continue to slow in the coming decades, the scope for economic convergence through structural transformation has not yet been fully exhausted. Further urbanization and associated productivity increases can continue to play a critical role for poverty reduction in China. However, for progress to be sustained a number of adjustments to policy will be needed.
The paper "Lugo, M.A., Raiser, M., and Yemtsov, R. (2022), China's Economic Transformation and Poverty Reduction over the Years: An Overview, KCG Policy Paper No. 8., Kiel Centre for Globalization" is accessible here.
The Global China Conversations provide an online discussion forum that fosters knowledge exchange between research and practice on topics related to China and the world economy in general and to Europe-China economic relations in particular. The Conversations are hosted by the Kiel Institute China Initiative in cooperation with the Centre for Modern East Asian Studies (CeMEAS) at the University of Göttingen, KOF Swiss Economic Institute at ETH Zürich, and Wildau Technical University of Applied Sciences.