The 2019 Forum on Globalization and Industrialization Successfully Took Place in Vienna
5th December 2019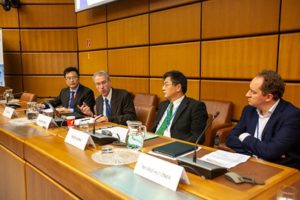 © UNIDO
As part of a multi-year cooperation between the United Nations Industrial Development Organization (UNIDO), the Kiel Institute for the World Economy (IfW) and KCG, the 2019 Forum on Globalization and Industrialization (FGI) "The Future of Global Value Chains (GVCs): How the Fourth Industrial Revolution is Changing Global Production Networks" took place on November 19, 2019 at the UNIDO Headquarters in Vienna. The 2019 FGI brought together around 100 policymakers, representatives from international organizations and academia as well as decision makers from business to discuss the challenges and opportunities the Fourth Industrial Revolution (also termed as Industry 4.0) has created and/or will create for global production networks. The final agenda of the forum with the list of speakers is accessible here.
Forum speakers and participants exchanged thoughts in four sessions about questions of great importance for our future economies and societies. What are the prerequisites for countries to successfully participate in Industry 4.0? How are new technologies transforming production processes and labour markets? How would they affect the global production networks? Will the new technologies, for example, encourage more backshoring of production to developed countries? Can the new technologies become drivers for more sustainable and inclusive development? Or will they create more inequalities within and between countries? Finally, what kinds of policies help foster technology diffusion and absorption and how can policymakers better harness new technologies for sustainable and inclusive development? The one-day programme was closed with a special session, which addressed the role of infrastructure development in facilitating GVC integration, drawing on recent experiences and lessons from China's Belt and Road Initiative.
At the forum KCG was represented by Prof. Gabriel Felbermayr, Ph.D. (IfW President and KCG Senior Fellow), Prof. Holger Görg, Ph.D. (KCG Managing Director), Cecília Hornok, Ph.D. (KCG Fellow), Dr. Haiou Mao (KCG Guest Researcher) and Frauke Steglich (KCG Fellow). Felbermayr gave introductory remarks after the welcome address of the UNIDO Deputy to the Director General Hiroshi Kuniyoshi and joined the discussion in the first session "The Future of GVCs: The Fourth Industrial Revolution and Its Implications for the International Division of Labour". Görg moderated the special session on the role of infrastructure development for GVC integration.
Dr. Adnan Seric (UNIDO and KCG External Research Fellow) and his team played a central role in organising the 2019 FGI and in fostering joint cooperation between UNIDO, IfW and KCG. To strengthen future collaboration between the institutions, a memorandum of understanding between UNIDO and IfW was signed during the event.
The official press release of UNIDO about the 2019 FGI is available here.