Podcast Interviews on Globalization, Global Value Chains and Friendshoring
11th May 2023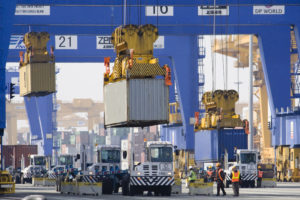 The development of the global economy faces great challenges nowadays including the US-China trade war, the COVID-19 pandemic, Russia's invasion in Ukraine and the rising geopolitical tensions, just to name a few. All these lead to question the future of globalization.
Against this background, Prof. Holger Görg, Ph.D. (Acting President of the Kiel Institute and Managing Director of KCG) gave two Podcast interviews, in which he discusses several key aspects of globalization, particularly of global value chains.
Here Görg shares his views on the challenges facing global value chains, the concept and the constraints of friendshoring in global trade, the missing definition of economic dependence in Germany and thus the still unclear strategy to deal with high economic dependence on less trustworthy countries. He also discusses the opportunities that the globalization can provide to the global south for sustainable development.
As to the economic dependence on China, he emphasises that "we have to be very careful with what we mean with dependency." With respect to friendshoring, he mentions that "the general concept seems to make a lot of sense". But considering the current trading structure, "it is not easy to find friends who can provide the goods one is looking for".
Görg discusses in this Podcast (from the 36th Minute) the development of globalization from a longer time perspective. He emphasizes that although crises have severe impact on globalization and hinder global trade, the past experience shows that global trade can recover rapidly. We are living in a highly globalized world and he believes that the high level of globalization will stay. He describes the benefits and costs of globalization – for the world as a whole, at the country-level but also from a within-country perspective. Last but not least, he discusses the role of national boundary for the globalization.
Contact: Prof. Holger Görg, Ph.D. (Holger.Goerg@ifw-kiel.de; +49(0)431-8814-258)