International Experts on Global Value Chain Research Gathered together on Nov. 1-2, 2018 in Kiel
4th November 2018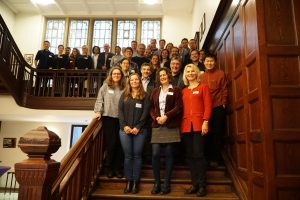 The first KCG Workshop "Economic and Social Consequences of Global Value Chains" took place on Nov. 1-2, 2018 at the Kiel Institute for the World Economy in Kiel, Germany. The workshop dealt with three selected key aspects of global value chains (GVCs) in four presentation sessions: trade, sustainability and ethics. Seventeen international experts presented their related up-to-date research results. The new research insights provided and the joint discussions among the fifty scholars who participated in the workshop not only facilitated knowledge exchange, but also stimulated new ideas and encouraged future joint cooperation among the participants and beyond.
Different from many other GVC workshops, KCG strived for an interdisciplinary workshop, where scholars on GVC research from different disciplines can come together to share their expertise, their knowledge of different methodologies and their findings and policy suggestions with each other. It is expected that gathering together GVC experts from different fields would help participants learn from each other and help jointly deal with the economic and social consequences of GVCs which have often posed multidimensional challenges to individual economies as well as to the world.
At the workshop we discussed about the impact of different trade policies, consequences of trade slowdown, challenges related to structural change, the relationship between trade and environmental innovation, pollution outsourcing, global standards related to consumer responsibility, consumers' responses to supplier hypocrisy, the implementation of corporate social responsibility and its consequences etc., just to name a few. Both theoretical and empirical research results were presented at the workshop that helped strengthen the theoretical base of the future empirical GVC research on the one hand and helped further develop GVC-related theories, considering the insights obtained from the empirical analyses, on the other hand.
KCG thanks the Fritz Thyssen Stiftung for its financial support for the workshop.
The final program of the KCG workshop can be found here.