Leibniz President Matthias Kleiner visited Kiel Centre for Globalization
1st February 2018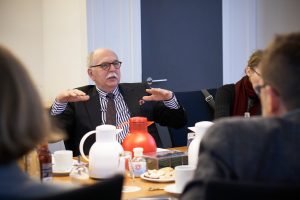 Prof. Dr. Matthias Kleiner, President of the Leibniz Association, visited Leibniz ScienceCampi in Kiel on Jan. 31, 2018. His visit started with two morning meetings with Prof. Dr. Sonja Peterson, Scientific Director of the Kiel Institute for the World Economy, and most of the research members of the Kiel Centre for Globalization led by Prof. Holger Görg, Ph.D., KCG Managing Director. Prof. Kleiner was accompanied by Dr. Bettina Böhm (Secretary-General), Dr. Kristina Hahn (Advisor) and Dr. Felix Kießling (Advisor) for visiting KCG.
The first meeting mainly focused on strategic issues such as the research profile and research progress of KCG, its personnel development, its future perspective, challenges (to be) faced, knowledge transfer to and cooperation with emerging and less developed economies, and, last but not least, the cooperation between the Kiel Institute and the Christian-Albrechts University of Kiel to support the operation of KCG. The meeting started with a brief introductory presentation provided by Prof. Görg and followed by a group discussion. The second meeting had a different focus, namely the promotion of KCG young talents. The discussion in which most of the KCG PhD Researchers and Dr. Liu as KCG Coordinator and Representative of KCG PostDocs participated went beyond their research foci and covered general topics such as the support they received from both scientific partners of KCG, their career plan and future perspective, their integration into scientific networks and expected support from the Leibniz Association.
The Kiel Centre for Globalization is a joint initiative of the Kiel Institute and the Christian-Albrechts University of Kiel. It is a Leibniz ScienceCampus and obtained financial support from the Leibniz Association and the State Government of Schleswig-Holstein, in addition to own financial resources provided by the two scientific partners. Promoting cooperation between Leibniz institutions and universities for advanced strategic research and for strengthening regional partnerships is one of the main objectives that the Leibniz Association expects Leibniz ScienceCampi to achieve.
More information about Leibniz ScienceCampi can be found here.
Another news about Prof. Dr. Kleiner's visit in Kiel on Jan. 31, 2018 can be found on the website of the Kiel University and on the website of the Focus magazine.