KCG's PhD students participated in a week-long seminar on "The Governance of Trade and Investment in a New Era of Globalization"
12th October 2017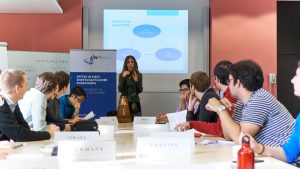 © Michael Stefan
During the last week of September 2017 KCG's PhD researchers Thilo Kroeger, Finn Ole Semrau, and Frauke Steglich participated in an advanced seminar on "The Governance of Trade and Investment in a New Era of Globalization" held by Iza Lejárraga of the OECD.
The course was part of the Kiel Institute's Advanced Studies Program in International Economic Policy Research (ASP). The ASP is a 10-month graduate program intended to give recent graduates and young professionals specialized insights and further training in the economics of international relations by top-level researchers and practitioners.
The course itself was designed as an interactive seminar on contemporary issues of the global trade and investment regime. Topics such as the relation between multilateral trading systems and regional trade agreements were discussed. Furthermore, the lecturer provided interesting and valuable insights into the functioning and principles of supra-national organizations like the WTO or the OECD. The course was topped off with a negotiation simulation, which gave the opportunity to apply the learned principles in a fictitious negotiation of a mega-regional trade agreement.
KCG's researchers engaged in lively discussions with the lecturer as well as with other participants, who had arrived from universities and governmental institutions of various countries.