KCG Workshop to be Held on Nov. 20, 2019
19th November 2019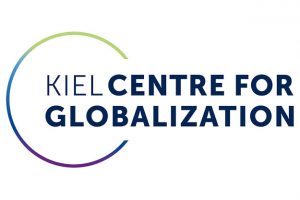 The Kiel Centre for Globalization (KCG), a Leibniz ScienceCampus founded in October 2016, evaluates with its interdisciplinary research agenda the proliferation of global value chains as an important aspect of globalization. Bringing together researchers from economics, ethics and management science, the KCG combines insights from these three fields to analyse the benefits and limitations of the relocation of production activities around the globe. Over the past three years, the KCG team has made progress in its all four research projects and has been engaged in further KCG projects analysing different aspects of global value chains. As a result, an increasing number of papers have been presented at internal and external seminars and workshops, circulated as KCG Working Papers or KCG Policy Papers, and published in international journals.
Some of the most recent research results will be presented at the KCG Workshop to be held on November 20, 2019 at the Leibniz Centre for Economics (ZBW) in Kiel. The presentations will cover a wide spectrum of research topics centred on globalization in general and global value chains in particular, incl. trade and demand uncertainty, tariff impact of the US-China trade war, the Belt and Road Initiative and international standards, corporate social responsibility along the global value chains, divestment and innovation as well as the power of brand etc. The workshop mainly aims at facilitating internal knowledge exchange, research discussions and idea exploration for future research.
More information about the workshop can be found here. The participation in the workshop is by invitation only.