KCG Study on Trade for Development Presented in Accra, Ghana
21st May 2019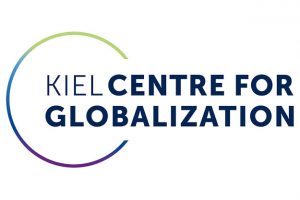 A new KCG Study "Can Trade Foster Development? Firm-level Evidence for Small- and Medium-sized Enterprises (SMEs) in Ghana", in cooperation with the Institute of Statistical, Social and Economic Research of the University of Ghana, will be presented by Prof. Dr. Charles Ackah (University of Ghana) and Prof. Holger Görg, Ph.D. (KCG Managing Director) for the first time at a dissemination and policy workshop of the same name on May 21, 2019 in Accra, Ghana. The study, financially supported by the German Federal Ministry for Economic Cooperation and Development (BMZ) and Deutsche Gesellschaft für Internationale Zusammenarbeit (GIZ), investigates the impact of Ghanaian manufacturing SMEs' exporting and importing activities on their own and other firms' productivity, employment structure, wage levels, skill structure, and training activities and on the gender equality based on a unique survey-based firm-level database. Cecília Hornok Ph.D. (KCG Research Fellow) was also intensively involved in the related research work.
Their analysis finds that exporting contributes to development by increasing the average wage and creating more employment and more apprenticeship positions in the exporting firms. As to productivity, evidence is found for direct productivity effects of exporting but no evidence for such effects of importing. The positive direct effects of exporting on productivity, employment and wages are strongly attributable to firms with male primary owners. And there is no evidence that exporting would lead to more or less gender discrimination against female workers. The positive impact on, for example, employment and wages is not restricted to trading firms only. They find that both exporting and importing activities of firms stimulate non-trading firms in the same industry-location cluster to hire more skilled workers and to pay higher wages. Such positive spillover effects are found to only accrue to non-trading firms that already have a relatively high skill share (above the average), implying key relevance of these firms' absorptive capacity for benefiting from the existent trading firms.
Based on the key results, policy implications are derived, emphasizing the crucial relevance of trade promotion for fostering development, the key role of education and training for skill improvement and capacity building, as well as the need for support for female entrepreneurs. Policy suggestions like these will be discussed in more details at the round-table discussion at the workshop to explore what can be done to, firstly, further improve Ghana's trade policy, SME development and employment policies, and sectoral industrialization policies etc. and to, secondly, better involve advanced economies to apply measures under Aid for Trade to help Ghana reap the benefits of trade for its further development. Lessons obtained from Ghana can be highly useful for other comparable developing countries.
More about the project can be found here.