KCG Senior Fellows Discuss Benefits and Challenges of a Supply Chain Law for Germany
12th February 2021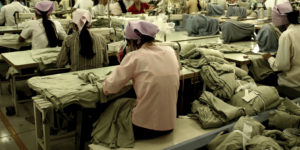 As early as 2016, the German government adopted a "National Action Plan on Business and Human Rights," which calls on German companies to make efforts to ensure compliance with human rights in global value chains. The plan has received little response from the business community, however. The German Federal Ministry of Labour and Social Affairs and the German Federal Ministry for Economic Cooperation and Development have therefore proposed to regulate a due diligence obligation for German companies in a legal framework – the so-called Supply Chain Law.
This planned law is intended to encourage German companies to better ensure the compliance with environmental standards and to take more care of working conditions in their global supply chains. To this end, obligations for companies are to be defined, and it is also to be regulated which claims for damages can be asserted against German companies in the event of non-compliance with the standards.
KCG Senior Fellows, Prof. Dr. Ludger Heidbrink, Prof. Dr. Stefan Hoffmann, Prof. Holger Görg, Ph.D., Prof. Aoife Hanley, Ph.D., and Prof. Dr. Till Requate discuss benefits and challenges of a Supply Chain Law for Germany in their new policy paper "Ein Lieferkettengesetz für Deutschland? (A Supply Chain Law for Germany?)" published today.
The authors argue that "… it [the law] can help to ensure that socially acceptable working conditions are guaranteed and environmental standards are complied with. Both have a direct impact on the welfare, health and quality of life of workers in global supply chains, and also have a wider impact on the economy, society and environment in the countries concerned."
They also emphasise that "While more detailed monitoring of international supply chains may lead to higher costs for companies in the short term, cost reductions and efficiency gains in production can be expected in the medium to long term. This in turn will increase the competitiveness of German companies in international markets where attention is paid to sustainable production."
The abovementioned paper (in German) "Heidbrink, L., Hoffmann, S., Görg, H., Hanley, A., and Requate, T. (2021), Ein Lifferkettengesetz für Deutschland?, KCG Policy Paper No. 7"is accessible here.
Contact:
Prof. Holger Görg, Ph.D. (KCG Managing Director): holger.goerg@ifw-kiel.de; +49(0)431-8814-258