KCG Seminar on Female Entrepreneurs and Exporting in Ghana on Feb. 14, 2020
7th February 2020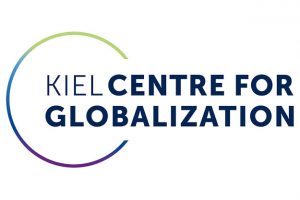 KCG has been engaged in several research projects focusing on trade and development in Ghana. First research results are already published in a KCG Study "Can Trade Foster Development? Firm-level Evidence for Small- and Medium-sized Enterprises (SMEs) in Ghana" that is available online to all interested readers. Within the framework of a follow-up related project "Trade and Sustainable Development in Ghana" since October 2019, KCG researchers (Prof. Holger Görg, Ph.D., Prof. Aoife Hanley, Ph.D., and Cecília Hornok, Ph.D.) deepened their cooperation with Prof. Dr. Charles Ackah (University of Ghana) to investigate the relationship between trade and sustainable development on site, taking into account different societal aspects in this regard.
One of the first new findings of their joint research will be presented in the KCG Seminar titled "Why are Africa's Female Entrepreneurs Unable to Play the Export Game?  Evidence from Ghana" by Hanley and Hornok on February 14, 2020 at the Kiel Institute for the World Economy, Germany.
Abstract: Using the Ghanaian ISSER-IGC panel, a survey of micro, small and medium-sized manufacturing enterprises for 2011-2015, we explore how the underperformance of Africa's female entrepreneurs can be explained by a male-female export gap, together with nine key business constraints. We find that female entrepreneurs are less likely to export and optimize their exports than their male peers. Importantly, we find that although access to finance is ranked more highly as a constraint by female entrepreneurs, this does not explain the difficulties they experience in optimizing exports. Consistent with related work (Field et al, 2010; Swamy et al, 2001), we find that constraints related to social and cultural norms, in particular concerning bribes and security, are especially important for females. This may hint at the exclusion of female entrepreneurs (voluntarily or involuntarily) from business networks or practices favoured by their male peers.
The Seminar will take place on Feb. 14, 2020 (12:00 – 13:00) in the Medienraum at the Kiel Institute (Kiellinie 66, 24105 Kiel, Germany).