KCG Researchers Visit Sun Yat-Sen University in Guangzhou, China
21st October 2019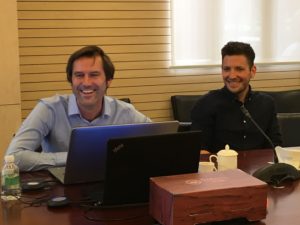 © Nils Hoffmann
KCG Researchers, Prof. Dr. Stefan Hoffmann and Nils Christian Hoffmann, visit Prof. Juelin Yin, Ph.D. (KCG External Research Fellow) and her colleagues at the Sun Yat-Sen University in Guangzhou, China this October. The visit, following Juelin Yin's research stay at the Kiel University last year, aims at facilitating their discussions and research cooperation in the future. The bilateral cooperation between Kiel and Guangzhou so far already led to a joint research paper under review on consumers' reaction to supplier hypocrisy in global supply chains.
Stefan Hoffmann stayed in Guangzhou for one week and gave a research talk at the business school of the Sun Yat-Sen University. He presented evidence from laboratory and field experiments that examined whether consumers use augmented reality apps in real world scenarios and showed that the effectiveness of ARPI (augmented reality-delivered product information) depends on the adaptability and detailedness of the product information presented.
Nils Christian Hoffmann will stay in Guangzhou until November to have more time to discuss with Juelin Yin about future research projects in more detail. The team plans to further deepen their cooperation and work on both joint academic publications and research grants.
During their visit, the KCG researchers also took part in a research seminar given by Prof. Yanfeng Zhou and her PhD students. Their discussions centred on the contemporary key topics in marketing and consumer behaviour, such as sustainable food consumption, corporate irresponsibility and corporate social responsibility.
The business school of Sun Yat-Sen University is one of the ten best business schools in China with a worldwide reputation for excellent teaching and research. The research stay of KCG researchers in China helps strengthen the existing cooperation relationships with colleagues in Guangzhou. It also helps build a bridge between the Sun Yat-Sen University on the one hand and the Kiel University and KCG on the other hand. Moreover, the visit helps KCG researchers learn more about the Chinese culture. Due to China's substantial role in the world economy nowadays, more understanding about the Chinese culture is highly relevant for future cross-cultural research on globalization-related topics.
The research visit was partly funded by the Fund for Internalization of Kiel University.