KCG Researchers Joined 2019 Academy of International Business Conference in Denmark
11th July 2019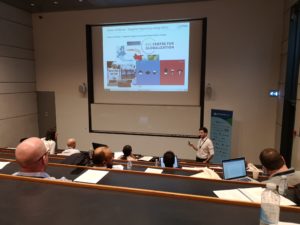 © Nils Hoffmann
KCG Fellow Nils Christian Hoffmann presented his recent research work "Chain of Blame: How Eastern and Western Consumers Account for Supplier Hypocrisy in Global Supply Chains" at the 2019 Academy of International Business (AIB) Conference on June 24-27 in Copenhagen, Denmark and received valuable feedback and suggestions. The paper is a joint work with Prof. Dr. Stefan Hoffmann (Kiel University and KCG) and Prof. Juelin Yin Ph.D. (Sun Yat-Sen University and KCG). Juelin Yin joined the workshop as well.
Their paper expands the dyadic relationship between firms' hypocritical behaviour and these firms' reputation among consumers to a triadic relationship, integrating the hypocritical behaviour of suppliers in global supply chains. Introducing a chain of blame, this paper suggests that the hypocritical behaviour of the supplier backfires on the firm, leading to loss of reputation and increased boycotting tendencies. The authors conducted a cross-cultural study with 2 (hypocritical vs supplier of integrity) × 2 (Chinese vs German supplier) × 2 (Chinese vs German respondents) experimental surveys. The results obtained provide evidence that consumers hold the firm responsible for its supplier's hypocritical behaviour. As a result, consumers lower the firm's reputation ratings, and intend to engage in boycotting the firm.
The authors plan to intensify their related cooperation within the KCG project in the near future. A visit of Nils Christian Hoffmann and Stefan Hoffmann to Juelin Yin at the Sun Yat-Sen University in Guangzhou (China) scheduled for October/November 2019 is expected to help further strengthen the mutual knowledge exchange and cooperation.
AIB, founded in the late 1950s, is a leading association of currently 3560 experts specialised in international business from academia, business, politics, international organisations and NGOs from almost 100 countries worldwide. More information about AIB can be found here.