KCG Researchers Gave Presentations at the Second HSU-IfW-Workshop in Development and Environmental Economics
25th July 2019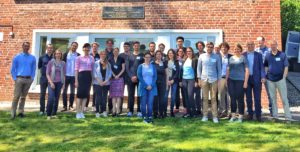 © HSU Hamburg
KCG Researchers Prof. Gabriel Felbermayr, Ph.D., Prof. Holger Görg, Ph.D., Dr. Birgit Meyer, Finn Ole Semrau and Frauke Steglich joined the second HSU-IfW-Workshop in Development and Environmental Economics, which took place on June 7, 2019 at the Kiel Institute for the World Economy (IfW) in Kiel, Germany. The HSU-IfW-Workshop in Development Economics and Environmental Economics, which was co-organized by IfW and the Helmut Schmidt University (HSU Hamburg), brought together researchers from both organisations and beyond to discuss their work in development economics, environmental economics, and climate economics broadly defined.
The keynote speech was given by Felbermayr based on his paper "Shedding Light on the Spatial Diffusion of Disasters", co-authored with Dr. Jasmin Katrin Gröschl (Ifo Institute), Dr. Mark Sanders (Utrecht School of Economics), Vincent Schippers (Utrecht School of Economics) and Thomas Steinwachs (Ifo Institute). Climate research suggests that global warming will lead to more frequent and more extreme natural disasters. Based on night-time light emission data, they assess the economic impact of disasters.  Results suggest that spatial shifts of economic activity after a natural disaster are a rather local phenomenon, stressing the importance of local adaptation policies.
Görg presented his ongoing research on "Direct and Indirect Effects of Production Subsidies on Firm Performance: Theory and Evidence from China", joint work with Prof. Jun Du, Ph.D. (Aston Business School), Prof. Sourafel Girma, Ph.D. (University of Nottingham & KCG), and Dr. Ignat Stepanok (Institute for Employment Research). Their research provides key insights into how subsidies in China affect firm performance in terms of, for example, productivity.
In a closing session for papers at a rather preliminarily stage, Steglich presented her joint paper with Semrau on "Corporate Social Responsibility in Global Value Chains: The Role of Downstreamness and Stakeholders' Demand". Last but not least, Meyer (Vienna University of Economics and Business & KCG) gave a presentation titled "Does Foreign Aid Help Improve Access to FDI?", based on a joint paper with Dr. Julian Donaubauer (HSU Hamburg) and Prof. Dr. Rainer Thiele (IfW).