KCG Researchers Commented on US-China Trade War
15th August 2019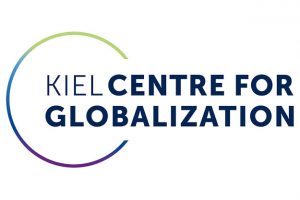 A recent KCG study "Friends like this: the Impact of the US – China Trade War on Global Value Chains" by Dr. Haiou Mao (Wuhan University and KCG Guest Researcher) and Prof. Holger Görg, Ph.D. (KCG Managing Director) investigates the indirect impact of the tariff increases between the US and China on third countries through their (differently strong) links in the global value chains. The analysis shows that the tariff hikes increase cumulative tariffs for other countries and thus also hurt trade partners. According to the authors' estimates, the tariffs impose an additional burden of around 520 million and 650 million US Dollars on Mexico and Canada, respectively. Both countries are key trade partners particularly of the US. The EU is found to be also heavily affected – roughtly 1.05 billion US Dollars alone through the increase in cumulative tariffs driven by the bilateral tariff hikes.
The key insights of the study have been reported by the "Frankfurter Allgemeine Zeitung (F.A.Z.)" and by the "Handelsblatt" last week, with quotes from Görg. He emphasized that "there will be only losers in the (US-China) trade war." "Third countries cannot afford to stand on the sidelines only to watch the happening. Due to their integration in the global value chains, third countries would also be affected and have to bear considerable additional costs." Such costs are expected to be even higher, taking into account the most recent US tariff of 10% to be imposed on the Chinese goods with a total value of 300 billion US Dollars in September, although some selected products are removed from the tariff list for health, safety, and national security reasons etc. and for certain products the tariff should be delayed to December 15 this year.
In addition to the quantitative estimates of the tariff impact on third countries by Mao and Görg, Dr. Wan-Hsin Liu (KCG Fellow and Coordinator) gave an interview to the "Capital" to discuss about China's negotiation tactics with the US to deal with the trade tensions. She argued that China's goal is not to win against the US in the trade war. How to best consider China's economic and political interests in the trade war negotitations and at the same time to ensure the domestic economic and societal stability would be the core priority of any deals to be concluded and signed by China.
The abovementioned media reports/interviews (in German) can be found here: