KCG Policy Paper No. 5: Lagging behind? German Foreign Direct Investment in Africa
3rd June 2020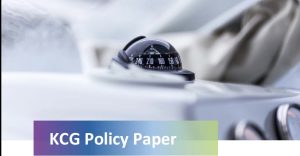 Authors: Julian Glitsch, Olivier Godart, Holger Görg, Saskia Mösle, and Frauke Steglich
German Foreign Direct Investment (FDI) in Africa is lagging behind China, France, the Netherlands, the UK, the US, and other economies. It represented only 1 percent of the German total FDI stock abroad in 2018 and is concentrated in few African countries. Overall, around 850 German firms have roughly 200,000 employees on the African continent (as of 2017). Compared with the main sending countries, German FDI is more concentrated in manufacturing as opposed to the natural resources sector.
Germany has engaged in various proactive policies to encourage FDI, including in Africa. For example, the Federal Government offers investment guarantees to German firms to cover political risks, which are often high in developing and emerging countries. German Chambers of Commerce abroad provide information on the local business environment, local investment opportunities and partners and thus aim to bridge information gaps often hindering FDI. More recently, new initiatives such as "German Desks" and "AfricaConnect" were introduced. They rely on private-public partnerships to facilitate access to local business opportunities but also to third markets in neighboring countries.
Based on an analysis of German FDI in 115 countries since 2010, we confirm that German Chambers of Commerce are related to a higher German FDI stock in their country of location. Moreover, we find that German investment guarantees help to reduce negative effects of low institutional quality. They are nevertheless only a second best option as compared to improving the national institutional environment. This is particularly true in the African context if the goal is to increase significantly the number of German firms active on the continent.
Recipient countries have also developed tools to attract FDI including "Investment Promotion Agencies" (IPAs) and "Special Economic Zones" (SEZs), aiming at compensating for weaknesses in the national business environment. While there is some evidence in the literature about IPAs as investment facilitators, the evidence is rather mixed concerning SEZs. In our analysis of German FDI, we do not find a significant correlation between the presence of SEZs and the German FDI stock.
Assessing the impact of very recent initiatives such as the "German Desks" and "AfricaConnect" is less straightforward as they are still in their infancy. They have the potential to reduce costly information barriers to FDI. Nevertheless, their beneficial effect on German FDI may take time to materialize and depends strongly on a business friendly institutional environment and cross border openness between African countries to FDI and trade.