KCG PhD Researchers Participated in a Week-long Lecture on "Dynamics of International Trade"
5th April 2018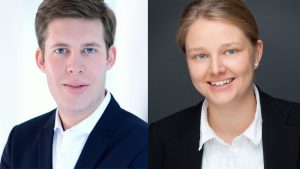 In March 2018 two KCG PhD Researchers Thilo Kroeger and Frauke Steglich attended a lecture provided by Samuel Kortum, James Burrows Moffatt Professor of Economics at Yale University. The lecture "Dynamics of International Trade" took place at the Kiel Institute for the World Economy as part of the Kiel Institute's Advanced Studies Program in International Economic Policy Research (ASP). The lecture dealt with selected topics related to international trade – a core element of the increasing globalization since decades. The lecture therefore provided key knowledge that is highly relevant for the research foci of KCG in general and for Thilo Kroeger's and Frauke Steglich's research project "Modelling economic and social dimensions of global supply chains" in particular.
More concretely, the lecture focused on Ricardian models of international trade emphasizing quantitative applications as well as dynamic implications. It dealt with not only related theories but also empirical and numerical research methods in the area. It, thus, provided participating students with the competence to (re-)construct contemporary theoretical trade models and the corresponding estimation skills. Among others, topical subjects such as the implications of trade imbalances were discussed.
Thilo Kroeger and Frauke Steglich participated actively in the discussions during the lecture. They were able to discuss their own research with the lecturer and other participants from universities and governmental institutions around the world as well.