IfW President Gabriel Felbermayr Joined KCG in June, 2019
14th June 2019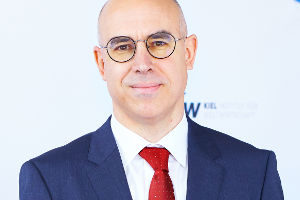 "Since its foundation, KCG has established itself as a centre of excellence for applied research on globalization issues. It bundles the expertise available in Kiel and acts as a forum for international cooperation. In a critical phase of history and with its unique setup, it contributes to a better public understanding of the manifestations, opportunities and risks of globalization processes", said Prof. Gabriel Felbermayr, Ph.D., President of the Kiel Institute for the World Economy in early 2019.
To intensify his support for further development of KCG, including its research and policy consulting activities on various globalization issues, Felbermayr officially joined KCG as a Senior Fellow in June, 2019. His research and policy advisory activities focus on questions of economic global governance, European economic integration, and German economic policy. He has published a large number of papers in international scientific journals, policy briefs, and newspapers. His research has been recognized with various awards.
Felbermayr's integration into the KCG research team is expected to help extend and deepen KCG's research on various globalization topics particularly from the macroeconomic perspective. His well-established network with international experts in globalization research and key decision makers from businesses and politics will also help transfer KCG research findings and policy implications to a wider group of interested stakeholders and to the public, thus strengthening KCG's contributions to related discussions in Germany and beyond.
Felbermayr holds various professional roles and positions in academic research and in policy consulting work. He is a member of the Scientific Advisory Board of the German Federal Ministry of Economics and Energy; Associate Editor, European Economic Review; and Associate Editor, Journal of the European Economic Association – just to name a few.