Holger Görg Joined the KAS-BKU Expert Conference "Grenzen des Handel(n)s (Limits to Trade/Action)" as a Panelist in January
15th February 2018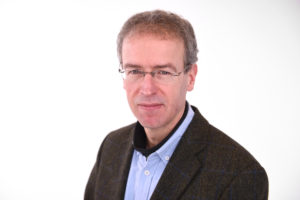 © KCG
Prof. Holger Görg, Ph.D., Managing Director of the Kiel Centre for Globalization was invited to be a panelist at the 11th KAS-BKU Expert Conference of Development and Economics on January 26-27, 2018 in Bonn. The overarching topic of the Expert Conference this year was "Grenzen des Handel(n)s (Limits to Trade/Action)". The Conference started with opening remarks by Prof. Dr. Dr. Ulrich Hemel (Chairman of BKU) and Dr. Peter Fischer-Bollin (Deputy Head of the Dept. "European and International Cooperation" at KAS), followed by speeches and three panel sessions.
The three panel sessions aimed at discussing the role of Trade Facilitation Agreement in world trade, German and European trade policies with a focus on German Aid-for-Trade Strategy, as well as how Africa will be further emphasized in German policies in the future after Germany's G20 Presidency in 2017.
Holger Görg joined the first panel session and discussed the role of Trade Facilitation Agreement in world trade with other experts, including Eckart von Unger (Representative of BDI/BDA in Brussels), Luis de la Peña Stettner (Former President of USEM and ICC in Mexico), Stephan Werhahn (Vice-President of UNIAPAC and Chairman of IEM). The session was moderated by Joachim Elsässer.
More information about the Conference can be found here.