Holger Görg Gave a Radio Interview on Brexit and the Irish Border
21st December 2017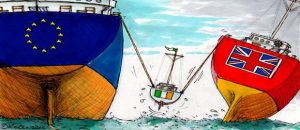 © Henlee Resourcing
The Brexit talks between the UK and the European Commission stalled early this month on the issue of a post-Brexit border between the Republic of Ireland and Northern Ireland. While both parties in the talks agreed that a hard border should be avoided, how this is to achieve after the UK leaves the EU's single market and customs union remains debated.
KCG Professor Holger Görg gave an interview mid-December on the economic aspects of this issue to the German radio broadcaster WDR 5. In the interview Prof. Görg argued that, even when the current economic significance of the Irish border is marginal to the rest of the EU, leaving this border open offers an important opportunity for European firms wanting to access the post-Brexit UK market. Avoiding a hard border might require the Republic of Ireland to get a special status within the EU, with the necessary regulatory alignment between, on the one hand, Ireland and Northern Ireland and, on the other hand, Northern Ireland and Great Britain. Under this arrangement Ireland could serve as a bridge between the UK and the EU economies and help minimize the economic costs of Brexit.
The radio interview can be accessed here.