Holger Görg and Frauke Steglich Joined the UNIDO-UIBE Workshop on Global Value Chains
20th July 2017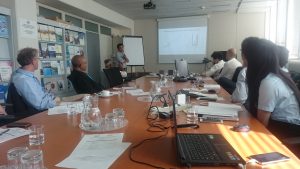 © Frauke Steglich
KCG Managing Director Prof. Holger Görg Ph.D. and KCG PhD Researcher Frauke Steglich joined the UNIDO-UIBE Workshop on global value chains (GVCs) on July 11-12, 2017 in Vienna. The Workshop organized by the United Nations Industrial Development Organization (UNIDO) and the University of International Business and Economics of China (UIBE) aimed at bringing together experts in global value chain research to discuss the general strategy, incl. main objectives, research methods and key outcomes, of the project "A Study on Global Value Chains and International Cooperation on Industrial Capacity with a Focus on China, South-East and South Asian Countries". The main goal of the project is to provide more insights into the role of global value chains for Inclusive and Sustainable Industrial Development (ISID), a key component of the Goal 9 of the Sustainable Development Goals, with a special focus on China and other Asian countries. More concretely, this project aims at better understanding GVCs, their effects on economic development and the conditions under which GVC involvement can contribute to ISID. To achieve this, the project collaborators carry out research on GVCs at the macro, meso and micro level combining quantitative, qualitative and case study analyses.
At the Workshop Prof. Aradhna Aggarwal Ph.D. (Copenhagen Business School) presented a background paper on India on the topic of "Firm Heterogeneities in Global Value Chains", which is co-authored with Frauke Steglich. Using firm-level data, this research is expected to shed light on the heterogeneity of Indian firms and their ability to overcome barriers to GVC integration. They received useful comments and suggestions from the workshop participants to further their research paper. In addition, Holger Görg provided valuable comments and suggestions to project collaborators who presented their background contributions to the project from different perspectives.
Overall, the workshop provided insights into economic modelling of global supply chains with emphasis on China, South-East and South Asian countries. This is closely related to the research agenda of the KCG project "Modelling economic and social dimensions of global supply chains" which Holger Görg and Frauke Steglich are currently working on with other KCG researchers.