Guli-Sanam Karimova Joined "Consumer Culture Theory" Conference in Odense, Denmark
12th July 2018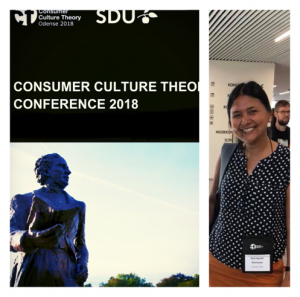 Guli-Sanam Karimova, PhD Researcher of the KCG project "Cross-cultural differences in the perception of corporate social responsibility and consumer social responsibility along global supply chains", was invited to join the Consumer Culture Theory (CCT) Conference that took place at the University of Southern Denmark (SDU) from June 28 to July 1, 2018 in Odense. The overarching theme this year was "Consumer Culture Fairytales: Ecstasy, Fury and Vision", aiming at uncovering narratives and meanings of marginalization and mainstreaming as well as reclaiming and redefining the stories of marketing, marketplace transformations, and global and local consumption.
Karimova participated in the session "Digital Consumer Culture Theory – Research Methods" that was co-chaired by Prof. Eric Arnould, Ph.D. (Aalto University Business School), Dr. Toni Eagar (Australian National University) and Prof. Daiane Scaraboto, Ph.D. (Pontificia Universidad Católica de Chile). During the discussion experts from the field of the digital revolution in consumer research shared their thoughts of how to assess consumer culture theory in digital environments. The questions concerning ontology, epistemology and ethics in digital consumer culture research were discussed among senior and junior researchers as well as with the audience.
More information about the conference can be found here.