Finn Ole Semrau Works As International Expert for GIZ in Mozambique
9th November 2017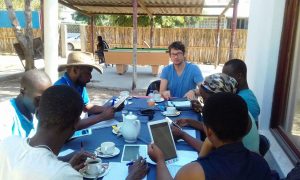 © Finn-Ole Semrau
KCG junior researcher Finn Ole Semrau is commissioned as international expert and study coordinator by the Gesellschaft für Internationale Zusammenarbeit (GIZ) GmbH. Within the scope of this activity, he visited the provinces of Manica and Sofala in Mozambique for three weeks.
The KCG junior researcher supports the GIZ with the implementation of a baseline study focusing on smallholder farmers commercially active in the agricultural value chains of baobab, pigeon pea and organic rice. The baseline study is part of the monitoring system of the 'Green Innovation Centres for the Agriculture and Food Sector' (GIAE). The GIAE aims to spread innovations in the agriculture and food sector to increase the incomes of small farming enterprises, boost employment, and improve the regional food supply in the rural target regions. On behalf of the German Federal Ministry for Economic Cooperation and Development (BMZ) the GIZ runs GIAE in 14 developing countries.
During his stay in Mozambique, Finn Ole Semrau conducted a five-day workshop for ten local interviewers, together with the national expert Dércio Matale, and accompanied the team during the first field days. The interviewers collected data from more than 600 commercially active households in rural areas by using tablets. This approach enables worldwide data availability and improves the data quality by its monitoring and feedback features. Finn Ole Semrau will present the final results of the baseline study in December at the GIZ office in Bonn, Germany, and in February at the GIZ office in Beira, Mozambique.