China should Continue its Opening Strategy even against Increasing Protectionism Worldwide
19th October 2018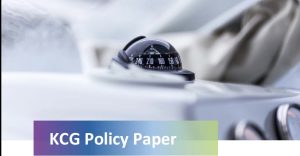 China's structural change from an export-oriented and investment-driven economy to a domestic market-oriented and innovation-driven economy is far from being completed. It was probably due to a combination of two objectives why China in the first half of 2018 launched a number of reform measures in inward investment and trade. On the one hand, Chine wants to constructively respond to headwind from the United States and partly also from the European Union against Chinese exports and foreign investment in order not to provoke further protectionist measures. On the other hand, it sees a unilateral alleviation of foreign investment and trade as an instrument to support its structural change by gaining access to foreign know how and equity capital. These reform measures are introduced and discussed in more detail in a newly published KCG Policy Paper "China between External Pressure and Domestic Policy Reforms: In Search of a Balance", co-authored by Prof. Dr. Rolf J. Langhammer (Kiel Institute for the World Economy, IfW) and Dr. Wan-Hsin Liu (KCG and IfW).
The authors also emphasize that China should continue its' opening strategy but not make strict reciprocity a precondition for further liberalization even against the increasing protectionism worldwide over time. China's unilateral liberalization will not only be advantageous for implementing its policies towards structural change. It will also help strengthen China's credibility as regards its claim and engagement in assuming an important role as a protector in the multilateral trading system and a leader in global governance.
The above mentioned paper can be found here.