Aoife Hanley delivered in Berlin research results about Africa's businesswomen and gender performance gap
9th October 2023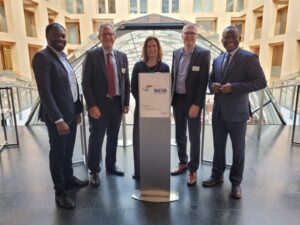 On September 19, 2023, the Conference "Shaping Africa's Future: Geopolitics. Business. Sustainability" took place in the AXICA Congress Centre in Berlin. This conference brought together people from policy, business, and academia from African and European countries, including KCG research fellows, to discuss the forces shaping Africa's economic future.
Prof. Aoife Hanley, Ph.D. (KCG, Kiel Institute and Kiel University; in the middle of the picture) delivered research results about Africa's businesswomen. Her presentation "Africa's businesswomen – underfunded or underperforming?" shared new research insights on how the gender performance gap disappears (or even reverses) when Africa's businesses from female owners are not liquidity constrained. The presentation is based on a recently published paper from her and co-authors (Ackah et al., 2023, more information s. below).
Cecilia Hornok, Ph.D., also KCG research fellow, joined the conference as well and discussed factors mobilising trade with and investment in Africa and their challenges.
The paper "Ackah, C., Görg, H., Hanley, A., and Hornok, C. (2023), Africa's businesswomen – underfunded or underperforming?, Small Business Economics, Online publication" is available here.
Contact:
Prof. Aoife Hanley, Ph.D. (aoife.hanley@ifw-kiel.de; +49(0)431-8814-339)