2019 Forum on Globalization and Industrialization is Now Open for Registration
16th October 2019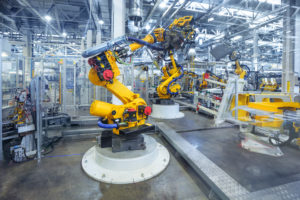 © (©nataliya Hora)
The 2019 Forum on Globalization and Industrialization (FGI) with its overarching topic "The Future of Global Value Chains (GVCs): How the Fourth Industrial Revolution is Changing Global Production Networks" will take place on Nov. 19, 2019 at the Vienna International Centre in Vienna, Austria. This is the fourth annual conference jointly organised by the United Nations Industrial Development Organization (UNIDO) and the Kiel Centre for Globalization (KCG) at the Kiel Institute for the World Economy (IfW).
The integration of more and more (particularly developing) countries into the continuously expanded GVCs in the past decades has transformed the world economy and helped drive economic growth and create jobs in general, although not all countries and individuals have equally benefited from the positive globalization impact. Both the expansion of GVCs and its positive economic potential have, however, been gradually challenged by technological advancements happening at the frontier – particularly in the field of digital and automation technologies.
There are, for example, concerns that robots may replace humans thus leading to a substantial number of job losses. Since skills and capabilities needed in the digital age are expected to be considerably more complex and sophisticated than before, there are also concerns as to whether the existing digital divide among individuals and among countries may aggravate the competitive positions of disadvantaged individuals and countries and thus increase inequality over time. How to deal with these concerns and challenges and to explore opportunities for all along the GVCs are critical issues that need to be well considered in future policymaking on GVCs to further strengthen the contributions of GVCs to long-term inclusive and sustainable economic and societal development.
Against this background the 2019 FGI will bring together academics, policymakers, representatives from international organizations and decision makers from business to discuss challenges and opportunities brought by the fourth industrial revolution to GVCs and to explore potential solutions that can help shape GVCs for more inclusive and sustainable development in the future.
Prof. Holger Görg, Ph.D. (KCG Managing Director) and Prof. Gabriel Felbermayr, Ph.D. (IfW President and KCG Senior Fellow) will join the 2019 FGI as speakers. Cecília Hornok, Ph.D. and Frauke Steglich (KCG Fellows) as well as Haiou Mao, Ph.D. (Wuhan University and KCG Guest Researcher) will also attend the conference.
Interested participants can register for the 2019 FGI here. The online registration will close at 11am (CET) on Nov. 14, 2019.
More information about the 2019 FGI and the previous UNIDO-KCG Conferences is available here.