Xinming Xia Gave a Presentation on Productivity of China's Manufacturing Industries at UCLA
18th February 2020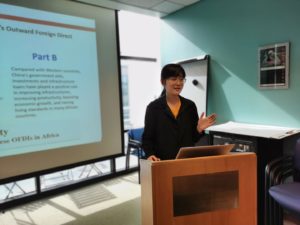 Xinming Xia, PhD Researcher from the Peking University and KCG Guest Researcher, participated in a project meeting hosted by the Institute of the Environment & Sustainability at the UCLA in Los Angeles in early February. At the meeting she also gave a presentation titled "Geography of Productivity: Evidence from China's Manufacturing Industries" and shared her recent research insights with experts in related research fields.
Xia has been visiting KCG since last November within the framework of the German Chancellor Fellowship for Tomorrow's Leaders, a scholarship program from the Alexander von Humboldt Foundation. Her research interests lie in foreign direct investment, import and export trade, industrial cluster, and technology spillovers. Her main research project in Kiel aims at learning more about German small and medium-sized enterprises (SMEs), their clusters, technology spillovers and evolutionary paths, in comparison with SMEs in China, under the supervision of Prof. Holger Görg, Ph.D. (KCG Managing Director). Additionally, she is intensively working on research topics centred on China's outward foreign direct investment (OFDI). Together with Dr. Wan-Hsin Liu (KCG Coordinator), they focus on Chinese OFDI in Africa and investigate its regional distribution over time.
Xia already received several scholarships and awards in her early professional career, including Young Global Changer Fellowship 2018 (Global Solutions Summit), Ryoichi Sasakawa Young Leaders Fellowship 2018 (The Ryoichi Sasakawa Young Leaders Fellowship Fund), Committee 100 Leadership Scholarship Program 2018 (Committee 100), Chinese-German Young Professional Campus Fellowship 2016 (Stiftung Mercator), and National Scholarship 2014 & 2015 (Ministry of Education, People's Republic of China).