Two Postdoc Fellows Join the KCG
18th January 2018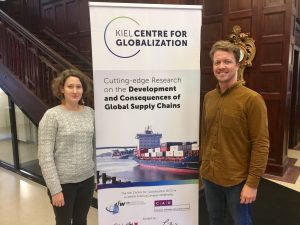 © Cecilia Hornok
Two postdoctoral researchers, Dr. Julian Hinz and Dr. Léa Marchal have joined the Kiel Centre for Globalization as research fellows from January 2018. Both researchers are currently affiliated with the Kiel Institute for the World Economy and have several years of research experience in studying different aspects of globalization.
The research of Julian Hinz is centered around the topic of international trade and the interaction between trade and foreign policy. In his recent papers he studies how trade policy is used as an instrument of foreign policy and what effect it may have on international trade flows. Julian Hinz holds a doctoral degree from the Paris School of Economics and the Université Paris 1 Panthéon-Sorbonne since 2016.
In her research Léa Marchal focuses mainly on migration issues and investigates, in particular, the impact of foreign employees on the performance of firms and the wages of native workers. More recently, she has also done work on the design of immigration policies and the potential benefits from policy coordination across countries. Léa Marchal earned her doctoral degree in 2015 from Lille University.