T20 Roundtable on June 4: Role of G20 for Fostering Inclusive and Sustainable Global Value Chains
1st June 2021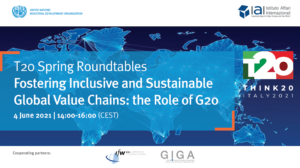 A significant share of global production takes place in global value chains (GVCs). Participating in GVCs is widely associated with economic benefits, such as productivity and employment creation, and considered one of the driving forces of growth and development worldwide. However, the sustainability of production in GVCs is increasingly contested, and associated social and environmental costs can be hefty. As production in GVCs entails that multiple actors, both private and public, located in various countries jointly produce goods and services, the sustainable governance of GVCs is best addressed in a coordinated multilateral effort (UNIDO, 2021).
Against this background United Nations Industrial Development Organization (UNIDO) and the International Affairs Institute (IAI) will co-organize a T20 Spring Roundtable "Fostering Inclusive and Sustainable Global Value Chains: The Role of G20" on June 4, 2021. The Roundtable will offer insights into what it takes for multilateral actors, such as the G20 and others, to address and mainstream sustainability into the global production and trading systems (UNIDO, 2021). The Kiel Institute for the World Economy (IfW), the German Institute for Global and Area Studies (GIGA) and the Kiel Centre for Globalization (KCG) are involved as partners.
The event will start at 2pm (CEST) on June 4, 2021 with opening remarks by Ettore Greco (Executive Vice-President, IAI) and Hiroshi Kuniyoshi (Deputy to the Director General, UNIDO).
LI Yong (Director General, UNIDO) will give a keynote address, followed by a roundtable discussion with distinguished experts as panellists as follows:
Pier Carlo Padoan, Vice President IAI and T20 Italy Lead Co-chair TF3 "Trade, Investment and Growth"
Norbert Barthle, State Secretary in the German Federal Ministry for Economic Cooperation and Development
Beata Javorcik, Chief Economist of the European Bank for Reconstruction and Development (EBRD)
Pamela Coke-Hamilton, Executive Director of the International Trade Centre (ITC)
Marco Felisati, B20 Sherpa and Confindustria Deputy Director Internationalization and Trade Policy
Alicia Bárcena. Executive Secretary of the Economic Commission for Latin America and the Caribbean (ECLAC)
The event will end with a Q&A session open to interested participants. Here Holger Görg (KCG Managing Director) will also briefly present the key insights of a related background paper "Mandatory due diligence for sustainable supply chains: Implications for the G20 and beyond", co-authored by Holger Görg (IfW, KCG, Kiel University), Jann Lay (GIGA), Stefan Pahl (GIGA), Adnan Seric (UNIDO & KCG), Frauke Steglich (IfW & KCG) and  Yaroshenko, Liubov (En Plus, Russia).
The roundtable will take place at 14:00-16:00 (CEST) on June 4, 2021 (Friday). It is open to all interested participants who are kindly asked to register here.