Science Jazz in New Orleans! KCG Researchers Joined 2018 AMA Winter Academic Conference in New Orleans, USA
22nd March 2018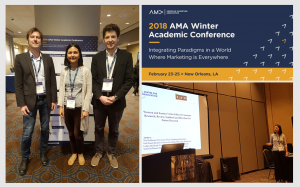 © Wassili Lasarov
KCG Researchers, Nils Christian Hoffmann, Prof. Dr. Stefan Hoffmann, and  Guli-Sanam Karimova, participated in the 2018 AMA Winter Academic Conference from February 23rd to 25th 2018 in New Orleans, Louisiana (USA). There they presented their first scientific results from the KCG project "Cross-cultural differences in the perception of corporate social responsibility and consumer social responsibility along global supply chains".
KCG PhD Researcher Guli-Sanam Karimova presented her paper "Western and Eastern Virtue Ethics in Consumer Research: Review, Synthesis, and Directions for Future Research", which is co-authored with Nils Christian Hoffmann, Ludger Heidbrink, and Stefan Hoffmann. The paper delivers future propositions in the field of consumer research synthesizing literature from the intersection of consumer research and philosophy and investigates the impact and implementation of virtue ethics on consumer behaviour between Eastern and Western cultures. PhD Researcher Nils Christian Hoffmann gave a presentation at the conference as well, based on his recent working paper "I Paid My Dues: How Voluntary and Mandatory Taxes Relieve Individuals from Their Obligations". In this paper, he shows that, under certain circumstances, a governmental tax on meat products might evoke backfiring effects due to moral licensing. The conference was a unique and wonderful opportunity for the KCG Researchers to present their work and to discuss it with, and to get feedback from academic experts from the field of marketing, globalization, and consumer research from all over the world.
The AMA Conference is one of the biggest and most important conferences in marketing academia and brings together researchers from all over the world. The overarching theme of the conference this year was "Integrating Paradigms in a World Where Marketing is Everywhere". More information about the conference can be found here.