Nils Christian Hoffmann joined Young Researchers' Workshop on International Management in Kiel
4th May 2017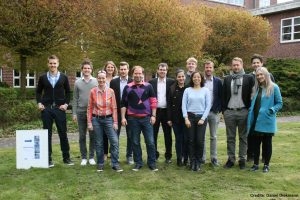 © Copyright: Daniel Diekmann
In the course of the annual conference of the "German Commission International Management" of the German Academic Association for Business Research (VHB), doctoral students and recently appointed postdoctoral researchers were invited to take part in a two-day workshop at the Christian-Albrechts-University of Kiel. The workshop took place on April 26-27 in Kiel, Germany. Professor Dr. Markus Pudelko from the University of Tübingen, Germany, who is responsible for the supervision of young researchers at the VHB, hosted the workshop.
The workshop aimed at giving orientation and support to early-career scientists in business administration and international management. It also provided opportunities for networking and discussion on methodological strengths and weaknesses of the current research projects of the participants. Nils Christian Hoffmann, who is a PhD researcher at the KCG, joined the workshop together with other early-career scientists from different German, Austrian and Swiss universities.
On the first day Professor Pudelko held a "how to publish" workshop in which he shared his experience as a successful researcher regarding publication strategies and gave important insights into the publication and review processes of high-ranked international peer-reviewed journals. On the second day, the participants presented their current research projects, followed by intensive group discussions on research questions, methodologies and potential publication strategies. Nils Christian Hoffmann also briefly introduced his KCG research project in progress "Cross-cultural differences in the perception of corporate social responsibility and consumer social responsibility along global supply chains" and obtained many valuable comments and suggestions. The next Young Researchers' Workshop on International Management is expected to take place again in Kiel in 2018.