Kiel Focus: "Germany's Planned China Strategy Is the Wrong Approach"
26th January 2023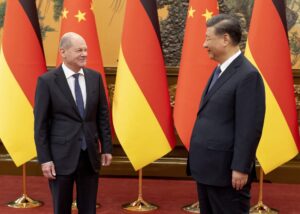 How should we engage with China? That question is currently being widely debated. Just a decade ago, the EU and China concluded the EU–China 2020 Strategic Agenda for Cooperation, which aimed at promoting a wide-ranging strategic partnership involving broad-based bilateral cooperation across a variety of areas. Although frequently modified, long-term cooperation was the foundation of bilateral relations between the partners. The relationship has undergone fundamental change in recent years, however. The focus and tone of the most recent version of the EU's China strategy, dating from 2019, shifted toward perceiving China more as a competitor than a partner. In addition to the EU itself, individual EU members—including Germany, France, and Italy—are now developing their own China strategies. All of these strategies are no longer based solely on the concept of joint cooperation, but increasingly on an assumption of systemic rivalry.
Does Germany need a foreign policy strategy focused on China?
A new Kiel Focus from Prof. Holger Görg, Ph.D. (KCG Managing Director and President at the Kiel Institute for the World Economy), Dr. Katrin Kamin (Kiel Institute), Prof. Dr. Rolf J. Langhammer (Kiel Institute), and Dr. Wan-Hsin Liu (KCG Coordinator & Kiel Institute) discusses this question and argues that a wider strategy for managing relations with autocracies would be more preferable.
In addition, Germany and the EU must also explicitly address their own weaknesses—in terms of technological progress, for example, as well as with respect to the performance of our democracies. Only in this way will it be possible to meet the challenge of systemic competition by making gains in areas where autocracies are weak, such as in the international currency and financial markets and in the manufacture of advanced IT products and environmental technologies.
The publication "Görg, H., Kamin, K., Langhammer, R.J., and Liu, W.-H. (2022), Germany's Planned China Strategy Is the Wrong Approach, Kiel Focus 01/2023" is available here: English version and German version.
A slightly edited German version of this article was published in Frankfurter Allgemeine Zeitung on January 6, 2023.
Contact:
Prof. Holger Görg, Ph.D. Holger.Goerg@ifw-kiel.de; +49(0)431-8814-258