Howdy Austin, Texas! Nils Christian Hoffmann Joined 2019 AMA Conference in Austin, USA
7th March 2019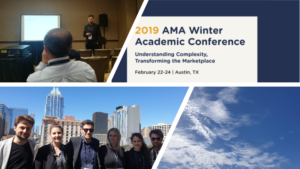 © Nils Christian Hoffmann
KCG PhD Researcher Nils Christian Hoffmann presented results of the KCG project "Cross-cultural differences in the perception of corporate social responsibility and consumer social responsibility along global supply chains" at the 2019 AMA Winter Academic Conference on February 22-24, 2019 in Austin, Texas (USA).
The AMA Conference is one of the largest and most influential conferences in marketing research. This year's overarching theme was "Understanding Complexity, Transforming the Marketplace". Consistent with the 'big tent' philosophy of bringing together researchers who study marketing-related phenomena using various approaches, "the 2019 AMA Winter Academic Conference seeks to attract exciting, rigorous research that is truly multidisciplinary and methodologically diverse. The focus of the conference on the issues of 'understanding complexity' and 'transforming the marketplace' underscores the importance of unpacking emergent marketing processes by a close examination of their complexity and identification of ways to transform the marketplace into a better world" (AMA, 2019).
Nils Christian Hoffmann presented his paper "Asymmetric effects of supplier hypocrisy along global supply chains – Empirical evidence from China and Germany", co-authored with Prof. Dr. Stefan Hoffmann, Co-Head of the above mentioned KCG Project, and Prof. Juelin Yin Ph.D., KCG External Research Fellow. Recent research has identified firms' hypocritical behaviour as a major threat to their reputation among consumers. This paper expands the dyadic relationship to a triadic relationship, integrating the hypocritical behaviour of suppliers in global supply chains. Introducing a chain of blame, this paper suggests that the hypocritical behaviour of the supplier backfires on the firm, leading to loss of reputation and increased boycotting tendencies. In the paper, the authors conducted a cross-cultural study with 2 (hypocritical vs supplier of integrity) × 2 (Chinese vs German supplier) × 2 (Chinese vs German respondents) experimental surveys. The results obtained confirm that consumers hold the firm responsible for its supplier's hypocritical behaviour. As a result, consumers lower the firm's reputation ratings, and intend to engage in boycotting the firm.
Nils Christian Hoffmann perceived the conference as a great opportunity to present his work and to discuss it with, and to get feedback from academic experts from the field of marketing, globalization, and consumer research from all over the world.