Holger Görg commented on the initiative "India-Middle East-Europe Economic Corridor"
17th October 2023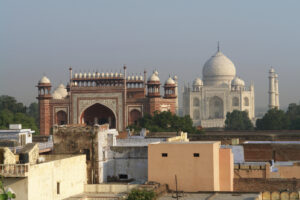 During the G20 summit in mid-September 2023 in New Delhi, the governments of India, the United Arab Emirates (UAE), the Kingdom of Saudi Arabia, Italy, France, Germany, the European Union and the United States signed a Memorandum of Understanding, aiming to establish the India – Middle East – Europe Economic Corridor (IMEC). This is expected to improve and intensify the connectivity and economic integration between Asia, the Arabian Gulf, and Europe through railway and shipping networks.
Shortly after the announcement of the IMEC, Prof. Holger Görg, Ph.D. (KCG Managing Director) commented on the initiative in an interview. With IMEC, "this time one of the largest and fastest growing economies in the world is involved", said Görg.
He emphasised that "the initiative would only get substance if the US and Europe may conclude comprehensive trade agreements with India and open up their respective markets to each other. However, this is not in sight."
Moreover, he pointed out the geopolitical motivation behind the IMEC-initiative. "This is … trying to tie India in particular, but also countries like Saudi Arabia, more closely to the West", said Görg in the interview.
The IMEC-initiative may, however, be delayed due to the ongoing, and further intensified, armed conflict between Israel and Hamas.
More information about his interview is available in the article "Mehr als ein Anti-Projekt / More than an Anti-Project, Süddeutsche Zeitung, 15.09.2023".
More about the IMEC-Initiative can be found here.
Contact:
Prof. Holger Görg, Ph.D. (holger.goerg@ifw-kiel.de; +49(0)431-8814-258)