Guli-Sanam Karimova visited a PhD seminar on Qualitative Methods and Research Design in France
23rd November 2017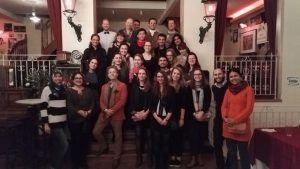 © Guli-Sanam Karimova
Consumption nowadays – in emerging economies as well as in developed ones – does not only serve for the satisfaction of basic needs anymore. Both the role of consumption and the lifestyles of consumers have changed with increasing globalization of economic production and consumption patterns over time. The intensification of globalization over the past decades has triggered an increasing interest in research about the role of consumer culture and the meaning of responsible consumption in a globalized world.
Methods and methodology for such cultural studies require specific knowledge on how to conduct research design. Researchers need to be familiar with these research methods and to be able to create novel methods and techniques.
To provide junior researchers with key knowledge and skills on up-to-date methodologies applied in consumer culture research, Consumer Culture Theory (CCT) organized a doctoral seminar that originated from a collaboration between the University of Southern Denmark (Odense, Denmark), Bilkent University (Turkey), Lille University-SKEMA Business School (France) and the Royal Holloway University of London (UK). It took place from November 13th to November 17th 2017 at the SKEMA Business School in Lille (France).
The overarching objective of the seminar was to familiarize young researchers with qualitative methods and research design to be adopted when conducting consumer research projects with cultural approach. Scholars (Eric Arnould, EMLYON Business School (France); Soren Askegaard, University of Southern Denmark (Denmark); Jeff Murray, Walton College, University of Arkansas (USA); Helene Cherrier, RMIT University (Australia); Melea Press, SKEMA Business School (France); Meltem Ture, SKEMA Business School (France); Olga Kravets, Royal Halloway University of London (UK)) and doctoral students reflected upon the construction and coherence of their research design, as well as potential methodological contributions. Speakers addressed the diversity of existing qualitative methods (interviews, quantitative and qualitative mixed methods, ethnography and netnography, videography, historical approach etc.). They also discussed issues such as conducting fieldwork on sensitive topics, researchers' distance with the fieldwork, etc. The seminar provided not only an opportunity to junior researchers to gain more insights into research methods but also raised their awareness of critical challenges when conducting qualitative research.
KCG PhD Student Guli-Sanam Karimova joined the seminar and presented the KCG research project "Cross-cultural differences in the perception of corporate social responsibility and consumer social responsibility along global supply chains". She received valuable comments and suggestions from the instructors of the seminar and the seminar participants.