Görg Emphasised "German Companies Must Continue to Innovate" in a new GTAI Export Analysis
15th September 2022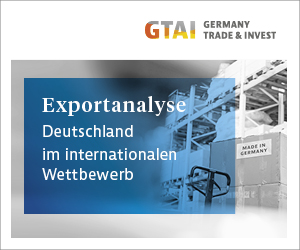 Against the background of a continuously rising global market competition, Germany Trade & Invest (GTAI) published its new export analysis on September 9, 2022 to provide an up-to-date overview of German exporters' competitiveness in an international comparison. The report focuses on Germany's four leading sectors, incl. mechanical engineering, automotive, chemicals and the electronics/digital industry. It aims at analyzing, amongst others, the temporal and regional development of German exports, the success of German exports of medical products particularly in the recent past, opportunities and challenges through digitalization and decarbonization for exports, how foreign direct investments may matter for the development of German exports and the crucial role of innovation for sustaining German exporters' competitiveness in the future.
Prof. Holger Görg, Ph.D (Kiel Institute and KCG) was interviewed by GTAI for its newly published report. In the interview he discusses the key factors for German exporters to acquire (new) markets and emphasizes the high relevance of fundamental factors such as a country's economic performance, the existence of the necessary infrastructure, and the demand for the German export mix in this regard. He indicates that South America is still underestimated by many German exporters as an export market. He underscores the high importance of innovation for German firms to sustain their competitiveness against the background of rising global market challenges, particularly from China. Last but not least, he emphasizes the potential of services, incl. digital trade and trade of digital data, for future exports. Here more needs to be done in Germany for firms to seize new market opportunities.
Görg's interview "German companies must continue to innovate" (in German) in the GTAI export analysis can be accessed here.