Global China Conversation on Oct. 26: Diversification – Can India be an Alternative to China?
23rd October 2023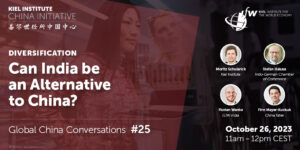 The next Online Global China Conversation will take place on October 26, 2023 and will address India's potential to become an alternative to China as an important sales and sourcing market for Germany and the EU.  An ageing population, structurally weaker growth in China and the general de-risking tone are turning all eyes to India: while China's working-age population is shrinking, India's will grow. Investors see the country's relative economic autonomy as an opportunity to better hedge against the effects of an impending global recession in the internationally networked economy.
For German companies, the country can offer a market where China is increasingly producing domestically. The Indian government's self-declared goal is to reach the stage of a developed country by 2047. Reforms such as a uniform value-added tax and a unified domestic market are steps in the right direction. Nevertheless, structural problems such as poverty, weak infrastructure, low industrialisation, protectionist measures, and corruption remain. The country under Narendra Modi also sees a shift towards Hindu nationalism, leading to ethnic unrest in parts of the country.
As "Asia's largest democracy", India is being courted as a partner of the West, while it at the same time sides with China and Russia in the BRICS. Does this very attempt to stand between the blocs offer attractive diversification potential? Or will internal and external problems continue to keep India the "eternal future market"?
The event (in German) will start with two brief presentations, followed by a moderated discussion:
Presentation from an academic perspective by Prof. Moritz Schularick, Ph.D. (President, Kiel Institute for the World Economy), and
Presentation from practice by Stefan Halusa (Director General, Indo-German Chamber of Commerce) and Florian Wenke (Director for India, Sri Lanka and the Maldives, Germany Trade and Invest (GTAI)).
Finn Mayer-Kuckuk (Head, Editorial team of China.Table) will moderate the event.
The event (in German) will be held via Zoom.
Registration is open to all interested. Please register here.