Five Senior Fellows Joined KCG in June 2020
16th June 2020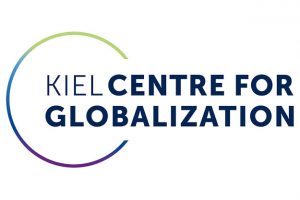 The "Kiel Centre for Globalization (KCG)" has since 2016 focused on analysing the benefits and limitations of global value chains (GVCs). These have grown in scale and complexity over the past decades. Combining expertise from economics, management science and ethics, the KCG looks at these issues from an interdisciplinary perspective. Recent political and public debates have highlighted three mega-trends: Protectionism, Digitalization and Climate Change. These three trends are expected to increasingly impact the developments and implications of GVCs. In the light of recent events, the KCG aims to deepen and intensify its research on how these political, technological and environmental developments shape GVCs, and how they affect the economic, social and ethical consequences GVCs have on societies.
To further deepen and intensify the globalization research of KCG, five senior fellows joined KCG in June 2020:
Prof. Dr. Sonja Peterson (Kiel Institute and Kiel University) with strong research focus on climate and energy policy, environmental policy instruments and climate-economy modelling
Prof. Dr. Christina Raasch (Kiel Institute and Kühne Logistics University) with strong research focus on innovation, digitalization and value creation/capture in industry ecosystems
Dr. Wilfried Rickels (Kiel Institute) with strong research focus on European Emission Trading, emission technologies, climate engineering and ocean sustainability
Prof. Dr. Alexander Sandkamp (Kiel Institute and Kiel University) with strong research focus on international trade policy, globalization and China, as well as gravity analysis
Prof. Dr. Dr. Ulrich Schmidt (Kiel Institute and Kiel University) with strong research focus on experimental economics, behavioural finance, decision theory and welfare analysis.
Their research foci cover different but highly interrelated aspects of globalization that are strongly relevant for carrying out the extended KCG research agenda. With their integration into KCG and their cooperation with the other team members, KCG aims to further increase its reputation as a centre of excellence for research and policy advice on globalization and on GVCs.