First UNIDO Webinar on the Future of Global Production Networks on June 30, 2020
24th June 2020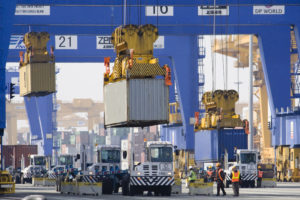 Focusing on the challenges brought by the COVID-19 outbreak to the manufacturing sector, the United Nations Industrial Development Organization (UNIDO) will organise a new webinar series "Future of Industrialization in a Post-Pandemic World" in cooperation with the Kiel Institute for the World Economy (IfW) and the Kiel Centre for Globalization (KCG). The UNIDO Webinar Series will gather together international leading experts on the topic of industrialization from academia, business, politics, international organizations and NGOs to address the unprecedented industrial challenges in a post-pandemic world and to share their related research insights and knowledge from the practice with the interested participants.
The first UNIDO Webinar "The Future of Global Production Networks in the Aftermath of COVID-19" will be held on June 30, 2020 at 2-3 pm (CET), aiming at exploring how the ongoing pandemic will shape the future of global production networks in the context of the fourth industrial revolution.
The Webinar will start with the opening remarks by Hiroshi Kuniyoshi, Ph.D. (Deputy to the Director General, UNIDO) and Prof. Gabriel Felbermayr, Ph.D. (IfW President and KCG Senior Fellow), followed by a plenary discussion with leading experts from Europe, Japan and South Korea:
Ha-Joon Chang, Director, Centre of Development Studies (CDS), University of Cambridge
Dr. Svenja Falk, Managing Director, Accenture
Beata Javorcik, Ph.D., Chief Economist, EBRD
Izumi Ohno, Director, JICA Research Institute
You are welcome to join the webinar and the discussion. Registration is kindly requested. More information can be found here.