Guli-Sanam Karimova Presented at the 5th EIASM Workshop on Business Ethics in Brussels
20th June 2019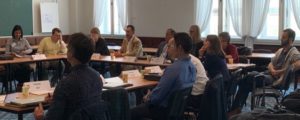 © EIASM
KCG Researcher, Guli-Sanam Karimova, joined the 5th EIASM Workshop on Business Ethics where she also gave a presentation based on her recent paper "Global Standards and Philosophy of Consumption: Towards Consumer-Driven Governance of Global Value Chains". This paper, an output of  the KCG Project "Cross-cultural differences in the perception of corporate social responsibility and consumer social responsibility along global supply chains", is a joint research work with Prof. Dr. Ludger Heidbrink (KCG Senior Fellow; University of Kiel) and Prof. Dr. Johannes Brinkmann (KCG External Research Fellow; BI Norwegian Business School).
The workshop took place on May 20-21, 2019 at the European Institute of Advanced Studies in Management (EIASM) in Brussels, Belgium, co-organized by Prof. Dr. Florian Wettstein (University of St. Gallen), Prof. Judith  Schrempf-Stirling, Ph.D. (University of Geneva) and Prof. Dr. Pascal Dey (Grenoble Ecole de Management; University of St. Gallen). The workshop brought together scholars from different countries who are specialized in the research fields of Business Ethics, Corporate Responsibility and Sustainability.
The presentations and discussions at the workshop were centred on four key themes: the role of business ethics in times of rising right-wing populism, the relevance of private governance for dealing with social, environmental, and economic problems, ethical challenges of new technology innovations as well as ethical finance. Specifically, there were discussions about exploitation and unjust wages, governance mechanisms in a globalized world, ethics of global supply chains, and gender diversity on corporate boards.
The program of the workshop can be found here.