2022 Forum on Globalization and Industrialization Open for Registration
29th November 2022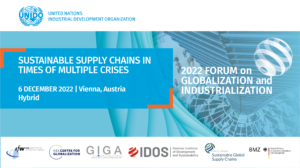 The 2022 Forum on Globalization and Industrialization (FGI) will take place under the theme "Sustainable Supply Chains in Times of Multiple Crises" in Vienna and online on December 6, 2022. FGI 2022 will bring together key stakeholders from policy and representatives from the private sector, academia and civil society to discuss sustainability in light of the energy crisis, changes in the global economic landscape and heterogeneity in global trade regulation which governs sustainability-related issues.
Specifically, the Forum will delve into mandatory due diligence legislation and its implications for small- and medium-sized enterprises in supplier countries. Due diligence regulation is typically established in larger consumer markets (such as the European Union) and requires multinational companies in the EU to promote sustainable and responsible corporate behaviour along their supply chains, including among firms located abroad.
There will be three sessions at FGI 2022:
Session 1: Getting serious about sustainable supply chains: Implementing due diligence regulation
Session 2: Geopolitical challenges and sustainable supply chains
Session 3: Green hydrogen: Opportunities and strategies for local value creation and technological learning
Prof. Holger Görg, Ph.D. (Acting President at the Kiel Institute for the World Economy & KCG Managing Director) will give opening remarks and will moderate Session 2 that will discuss challenges posed by current and emerging geopolitical tensions on global supply chains, placing emphasis on the perspective from the Global South. It will highlight the most pressing issues for developing and emerging economies, and explore how national and multilateral policy actors can respond to these issues.
Since 2016 United Nations Industrial Development Organisation (UNIDO) has organized the annual FGI in cooperation with the Kiel Institute for the World Economy and the Kiel Centre for Globalization. The German Institute for Global and Area Studies (GIGA) and the German Institute of Development and Sustainability (IDOS) joined the consortium in 2021, driving a stronger focus in the Forum on sustainability in global supply chains.
More information can be found here.